DBK Non-Acid Disinfectant Cleaner
Description
Description
Disinfectant, Cleaner, Mildewstat, Fungicide, Virucide, Deodorizer.
CALL US:
516 753 9350
Related products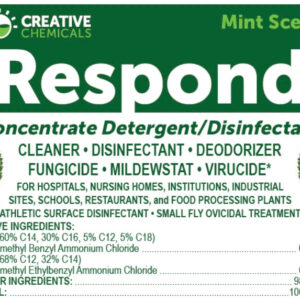 Respond Disinfectant Cleaner
Respond Disinfectant Cleaner
Description

Highly recommended for hospitals, nursing homes, schools, hotels, of ce buildings, etc. Ideal for cleaning, disinfecting and deodorizing hard surfaces such as walls, doors, metal surfaces, bathrooms, plastic surfaces, etc. The amount used for dilution: 4 ounce per gallon.
**EPA List N: Disinfectants for Use Against SARS-CoV-2 which causes the disease COVID-19.
CALL US:
516 753 9350